Join us for the 2023 Chrysalis INSPIRED Event!
Filed under "education"
Published Wednesday, September 20, 2023
---
---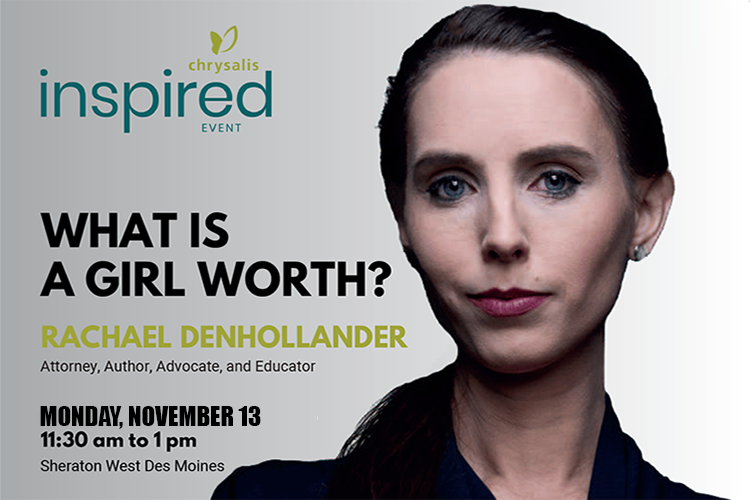 ---
We hope that you've purchased your tickets for our upcoming INSPIRED Event featuring attorney and author Rachael Denhollander. You recall that Ms. Denhollander gained international recognition in 2016 as the first woman to speak publicly against USA Gymnastics' team physician, Dr. Larry Nassar, one of the most prolific sexual abusers in recorded history. As a result of her disclosure, more than 300 women came forward with reports of Nassar's abuse, triggering his conviction and life sentence for his crimes.
One needs only to read her 2018 op ed entitled: The Price I Paid for Taking on Larry Nassar (https://www.nytimes.com/2018/01/26/opinion/sunday/larry-nassar-rachael-denhollander.html) to identify the horror of her revictimization following her disclosure:
"I lost my church. I lost my closest friends as a result of advocating for survivors who had been victimized by similar institutional failures in my own community. I lost every shred of privacy."
"When a new friend searched my name online or added me as a friend on Facebook, the most intimate details of my life became available long before we had even exchanged phone numbers. I avoided the grocery stores on some days, to make sure my children didn't see my face on the newspaper or a magazine. I was asked questions about things no one should know when I least wanted to talk."
Recently, Ms. Denhollander shared her voice on another hazard faced by athletes – performance over person. Here is what she wrote in a recent guest essay responding to the criticism faced by Simone Biles when she withdrew from the Olympic games in 2021:
"Simone had "the twisties" — a complete loss of ability to perceive her body in space…I've witnessed many incredible moments in athletics, but as I watched from home that day, I knew I was watching a victory that redefined the others: Simone's decision to value her own safety, on her own terms, above the voracious demands of an abusive and toxic athletic system. It was a moment so many of us had fought for, for so long."
Professional athletes aren't the only ones who face overwhelming pressure to perform on someone else's terms — to work past the point of what's healthy, to define ourselves by what we achieve instead of who we truly are. That pressure is so common that it can be hard to remember there's any other possibility. But it doesn't have to be this way. As high-profile athletes from around the world have begun to speak up about what they endured in their quests for triumph — abuse in every form, anxiety, depression, and a loss of their own identity — some have gone so far as to say that, if given a choice, they would relinquish their victories for simple health and wholeness.
We are proud to host Rachael Denhollander as a role model for the strength, wisdom, and resilience we work every day to impart to the girls and women touched by Chrysalis After-School, GirlPower, and our nonprofit grant partners.
Join us at the 2023 INSPIRED Event on November 13.