INSPIRED is the foundation's annual fundraising and educational event presenting powerful women speaking on meaningful topics. INSPIRED is our opportunity to learn from the wisdom and experience of these remarkable women. Past speakers have included athletes, journalists, astronauts, first responders, authors, and civil rights activists including Dr. Mae Jemison, Dr. Tererai Trent, Dolores Huerta, and Dr. Angela Davis.
2023 INSPIRED Event: What is a Girl Worth?
with Rachael Denhollander
_______
presented by Sammons Financial

MONDAY, NOVEMBER 13, 2023

Rachael Denhollander gained international recognition in 2016 as the first woman to speak publicly against USA Gymnastics' team physician, Dr. Larry Nassar, one of the most prolific sexual abusers in recorded history. As a result of her disclosure, more than 300 women came forward with reports of Nassar's abuse, triggering his conviction and life sentence for his crimes.
Now an attorney, author, advocate, and educator, Denhollander's grasp of legal issues, corporate ethics, effective leadership strategies, and investigative practices are coupled with trauma-informed, deeply compassionate sensitivity bridges the gap between survivors and the society and institutions that may have failed them. Her understanding of legal issues is enhanced by her courage and conviction to "pursue justice and protect the innocent."
Join us to hear her story, and how her strength and resolve inspired hundreds of others to end their silence.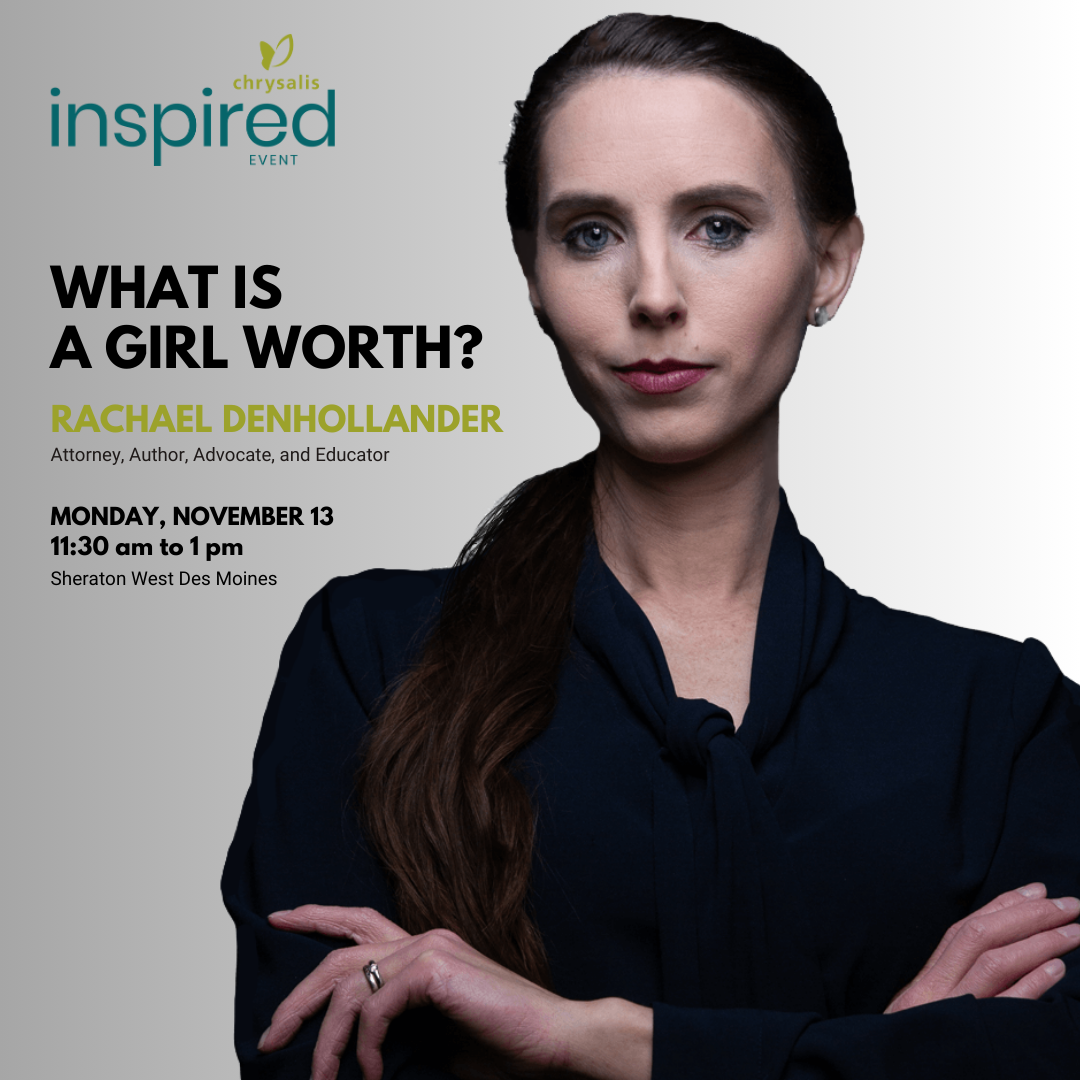 more about rachael denhollander
"Her lasting lesson is that we all have the power to create real change, and we cannot allow ourselves to be defined by the acts of others."
--
Christine Blasey Ford, Stanford University School of Medicine
Why I Spoke Up: Rachael Denhollander | Deanna Hong [8:56]

https://www.youtube.com/watch?v=v4aekQwKIKs

Dec 23, 2017

Over 140 women and girls have accused former Team USA Gymnastics doctor, Larry Nassar, of sexually abusing them under the guise of medical treatment. Rachael Denhollander was the very first to come forward. As the first person to publicly accuse an acclaimed public figure of sexual assault, Denhollander faced an incredible amount of backlash, disbelief, and victim shaming. In this video, she discusses the what inspired her to come forward, the obstacles she faced, and the role that USA Gymnastics played in enabling Nassar's abuse for decades. "Why I Spoke Up" is a collaboration between Emmy-award winning videographer Deanna Hong and the Gymnast Advocacy Organization, a 501(c)(3) nonprofit created with the goal of eradicating abuse culture within the gymnastics community through education and advocacy.
2022 INSPIRED Event:
laura ling, a story of hope and resilience
tuesday, october 11, 2022 (international day of the girl)
sheraton west des moines
Laura Ling's powerful presentation about her experience in 2012 when she was taken captive in North Korea highlighted the importance of hope and resilience. Nearly 400 individuals, over 45 local companies, and 33 volunteers were together to hear the many lessons this traumatic event taught Laura.
Find event photos here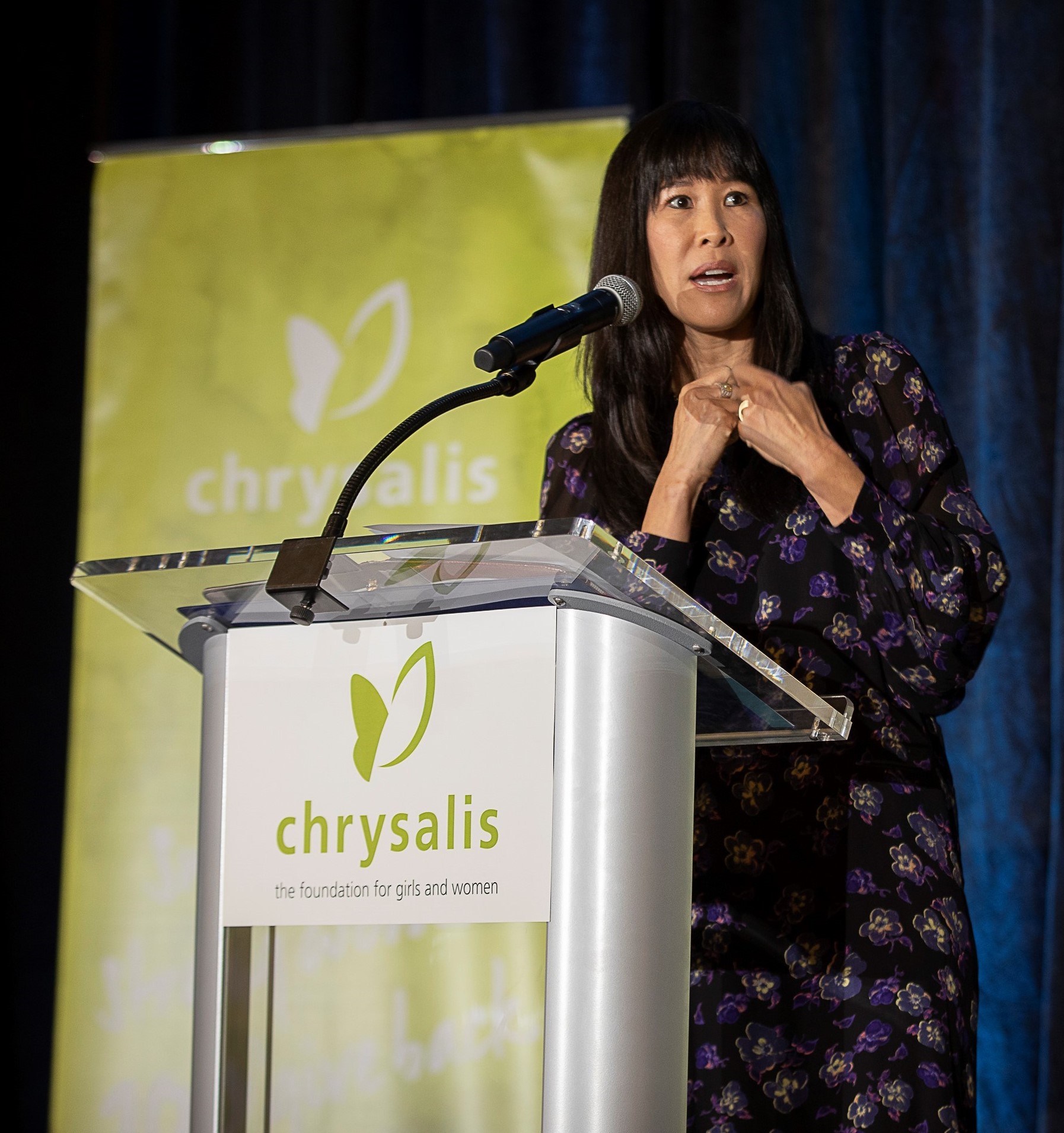 2021 INSPIRED Event:
women at ground zero ...20 years later
friday september 10 2021
virtual event
The powerful messages about how the attacks on the World Trade Center impacted authors Susan Hagen and Mary Carouba, as well as first responders Terri Tobin and Regina Wilson, deeply moved Chrysalis and has us dialoguing about their messages.
From authors Susan and Mary:
When an idea continues to distract you, pay attention - The difference between the idea and the publishing of the book "Women at Ground Zero" was the authors' continuous sense that something needed to be done to share women's stories.
Ignore the "no" that blocks you from pursuing what you feel strongly about - It's a driving force important to overcome the "why not's" and tackle the "why's" in following your heart.
From first responders Terri and Regina:
We have a responsibility to carry on - when another person suffers or is lost in the pursuit of a goal, we have an obligation to continue to work toward this goal.
We can each be everything we want to be - it will take plenty of hard work and persistence, but it will be worthwhile.
And, in general:
Notice whether women's stories and experiences are included - women are often there, yet not highlighted. Our future generations need to see what they can be.
______________________________________________________________________________
2020 inspired event: sunny hostin
friday october 20, 2020
virtual event emceed by Sabrina Ahmed
Sunny Hostin's own story as a self-described Afro-Latina lawyer frames her perspective on life, family, career, and society. Known for her informed analysis of the law as well as her emotional intelligence, she believes she is not a role model but a "possibility model."
Hostin is a 3-time Emmy Award winner and has co-hosted ABC's popular talk show The View since 2016.
Originally from the South Bronx in New York, Hostin graduated from Notre Dame Law School and became an attorney for the United States Department of Justice. Moving into a position as a federal prosecutor, she received the Special Achievement Award by Attorney General Janet Reno for her prosecution of child sexual predators.
Hostin's work as a legal correspondent for ABC's Good Morning America and for the ABC News Special The President and the People provided her an opportunity to report on some of the most compelling stories of the past decade including the civil unrest in Ferguson and Baltimore, the Bernie Madoff and Bill Cosby scandals, and the George Zimmerman trial.
A gifted storyteller, Hostin hosted, and executive produced a 6-episode documentary series, Truth About Murder with Sunny Hostin on Investigation Discovery.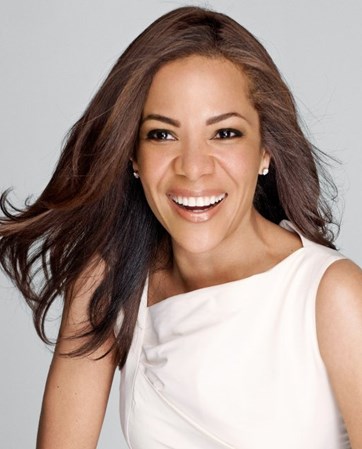 ______________________________________________________________________________
2019 inspired event: dolores huerta
friday september 20, 2019

hilton des moines downtown
If you joined Chrysalis for the 2019 INSPIRED Event, you had the opportunity to meet a "living legend" – Dolores Huerta. Then 89 years old, Huerta's passion intensified as she spoke to nearly 500 guests at the luncheon event on September 20.
Dolores Huerta urged each of us to follow our own values and uphold what we believe is right. This is where people find their power, she shared, in changing not only their own lives but changing their communities and society.
Huerta's advice for each of us? Don't wait to be invited - step up and become an activist. This is how change happens and why Huerta noted "people who get involved in activism live so many experiences that they otherwise wouldn't…peoples' lives are so enriched."
Throughout history are countless stories of activism: people working together toward a shared purpose to actively create change together. Women instinctively do this well – bringing people together, amplifying their voices, and working for good in the world around us. Speaking up, teaching a life lesson, promoting an idea, writing a letter to the editor, and intentionally choosing how to spend our money (such as not buying goods produced by companies that exploit workers) are exercises of activism that create and sustain movements, and movements lead to change.
"Leadership is a choice one makes," Huerta shares. "When you choose to give time and resources to participate in community work, this is what makes you a leader."
Today's issues violence and conflict can overwhelm us, but we cannot stop our activism and our commitment to making this world a better place. Following the lead of a trailblazer like Dolores Huerta is one way we can continue to work toward long-term change.
View event photos here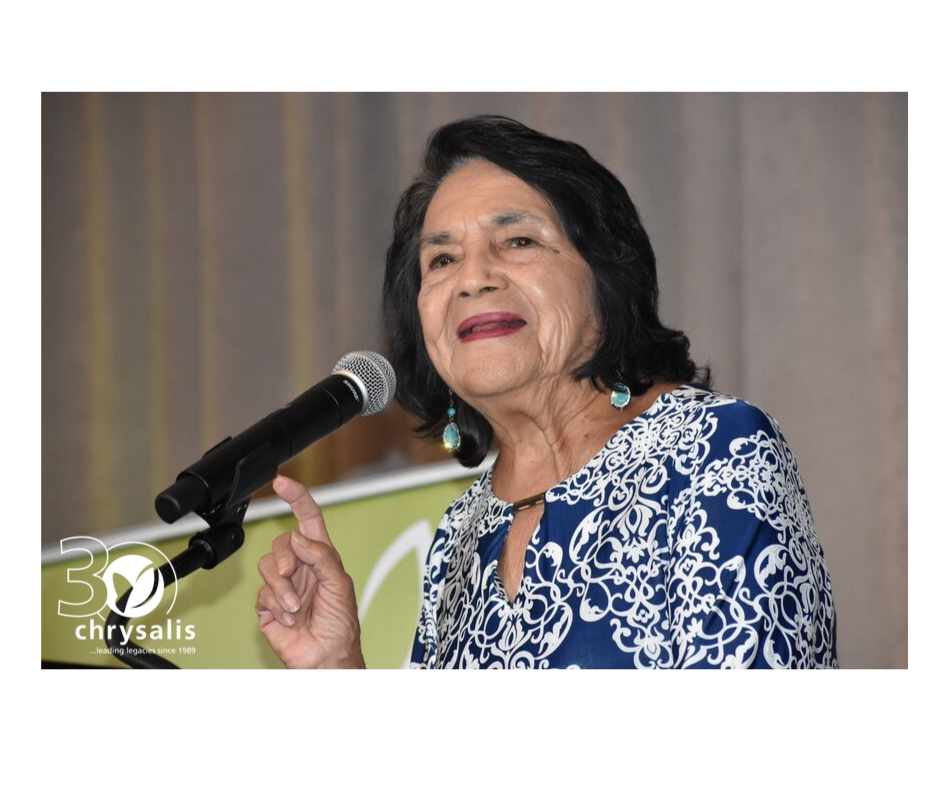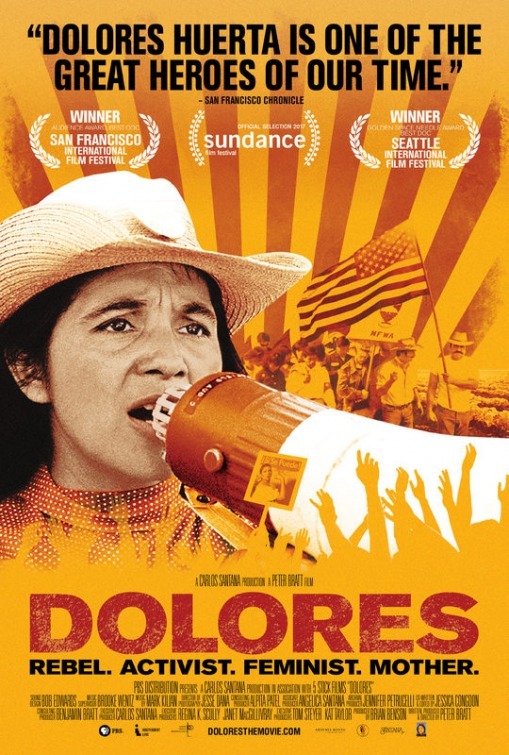 chrysalis was proud to partner with drake university's women's and gender studies department to host a screening of the documentary, "Dolores: Rebel. Activist. Feminist. Mother."
over 100 students, staff, and friends gathered to view the 2017 film co-produced by musician Carlos Santana and actor Benjamin Bratt. the film was directed by Peter Bratt, award-winning screenwriter and independent filmmaker.
as co-founder of the first farm workers unions, dolores huerta is one of the most important, yet least well known, activists in united states' history.