Gloria's Activism Still Going Strong!
Filed under "empowerment"
Published Tuesday, July 7, 2015
---
---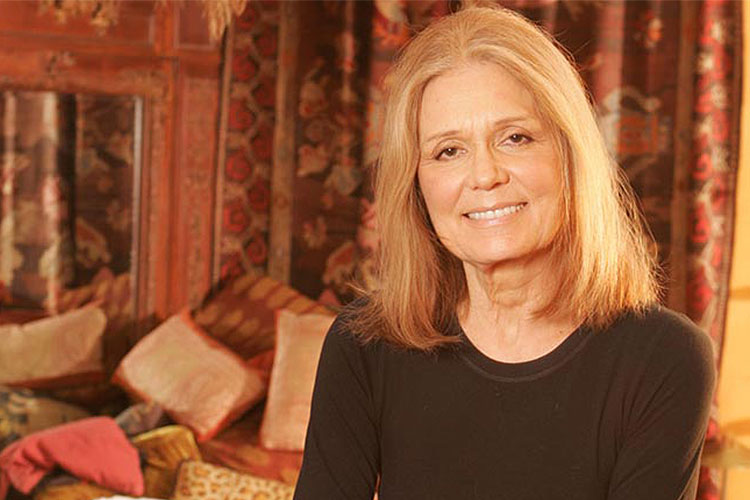 ---
However you may feel about her, the fact that Gloria Steinem turned 82 years old this year is astounding. Even more remarkable is that she's been a social and political activist – recognized as a leader and spokeswoman for the feminist movement – for over 46 years.
Her roots in women's rights were deep; her grandmother was a committee chairwoman in the National Woman Suffrage Association, delegate to the 1908 International Council of Women, and the first woman to be elected to the Toledo, Ohio Board of Education.
Steinem graduated Phi Beta Kappa from Smith College, she spent 2 years in India as a Bowles Asian Fellow, then as director for the Independent Research Service – an organization later learned to be funded by the CIA.
She embarked on a journalism career, writing and editing for such magazines as ESQUIRE, NEW YORK Magazine, COSMOPOLITAN, and later founding MS. MAGAZINE. For one of her early stories, she was employed as a Playboy bunny in New York, later publishing an article (A Bunny's Tale) exposing the exploitive working conditions and sexual demands of the women.
Steinem believes the spark that began her active feminism occurred in 1969, when she covered a controversial speak-out for NEW YORK Magazine. She had an abortion herself at the age of 22, and although she didn't speak at the event, she knew it was the first time I had taken responsibility for my own life – I wasn't going to let things happen to me. Not until age 66 did she marry – to David Bale, father of actor Christian Bale. It was only 3 years before Bail died of brain cancer.
Gloria Steinem was a good friend to Chrysalis founder Louise Noun, visiting her several times, and helping raise funds in the early days of the foundation. She continues to write, speak, and campaign for the rights of girls and women worldwide.
Here is a wonderful article on the ways "Gloria Steinem Taught Us To Be Better Women." Just for fun, check out a few Gloria-isms (quotes from Gloria) that ELLE Magazine recently shared.
A woman without a man is like a fish without a bicycle.
‪Some of us are becoming the men we wanted to marry.
Without leaps of imagination or dreaming, we lose the excitement of possibilities. Dreaming, after all is a form of planning.
‪So whatever you want to do, just do it…Making a damn fool of yourself is absolutely essential.
‪Feminism has never been about getting a job for one woman. It's about making life more fair for women everywhere. It's not about a piece of the existing pie; there are too many of us for that. It's about baking a new pie.
Each other's lives are our best textbooks.Women have always been an equal part of the past.
We just haven't been a part of history.
‪There is no such thing as Superwoman. You can't have everything if you do everything.
‪When unique voices are united in a common cause, they make history.
The first problem for all of us, men and women, is not to learn, but to unlearn.
Women are not going to be equal outside the home until men are equal in it.
We are talking about a society in which there will be no roles other than those chosen or those earned. We are really talking about humanism.
America is an enormous frosted cupcake in the middle of millions of starving people.
We'll never solve the feminization of power until we solve the masculinity of wealth.
Once we give up searching for approval we often find it easier to earn respect.
Clearly no one knows what leadership has gone undiscovered in women of all races, and in black and other minority men.
‪Planning ahead is a measure of class. The rich and even the middle class plan for future generations, but the poor can plan ahead only a few weeks or days.
The family is the basic cell of the government: it is where we are trained to believe that we are human beings or that we are chattel, it is where we are trained to see the sex and race divisions and become callous to injustice even if it is done to ourselves, to accept as biological a full system of authoritarian government.
Thank you Gloria for helping us empower girls and women!