Thank a Veteran
Filed under "public policy"
Published Monday, November 10, 2014
---
---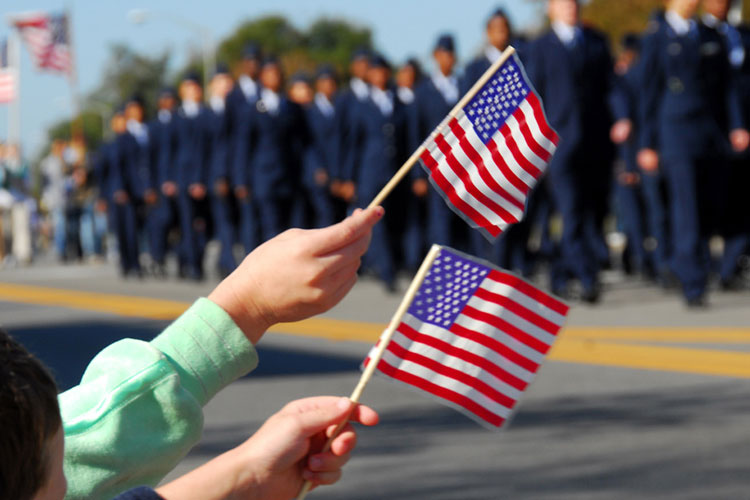 ---
Veterans Day is Tuesday, November 11, a day to mark the remarkable service of America's military women and men, whose distinguished service and sacrifice for our freedom has been priceless.
History tells us that in November 1919, President Woodrow Wilson proclaimed November 11 as the first commemoration of Armistice Day, a day that was to be observed with parades and public events, as well as a brief suspension of business beginning at 11 am. This recognized a special day the preceding year, November 11, 1918, regarded as the end of the "war to end all wars," as in World War I, a cessation of fighting (armistice) went into effect on the 11th hour of the 11th day of the 11th month.
Although women weren't formally under military command until early in the 20th century, they have served in a range of duties, beginning with the American Revolution. At that time, it was common for wives, mothers, and daughters to follow their male loved ones into battle, where they tended to not only their men, but to all others as cooks, seamstresses, and caregivers to the wounded.
Some women even went onto the battlefield, most notably Mary McCauley, who was thought to be the model for the legendary Molly Pitcher. Many historians suggest that the tales of Molly Pitcher are folklore more than history, as her name came from a nickname given to women who carried water to men during battle. During the Civil war, more than 400 women disguised themselves as men and participated in combat roles alongside men.
As of last March, women made up about 210,000 of the nearly 1.8 million veterans who have served since 2001 – about 20% of active duty service members today are female. Iowa is home to 14,744 female veterans.
Today's female veteran is more severely affected by the challenges of civilian life than her male counterpart:
One in 5 women veterans report having experienced military sexual trauma, including rape; the Veterans Administration notes that only 15% of women in the military report harassment or assault during the time of their service.
Over 40% of female soldiers are mothers, and the stress on marriage can be overwhelming – 3 times as many women soldiers divorce when compared with men.
Female veterans are 3 times more likely to attempt suicide and 4 times more likely to be homeless than male veterans.
One in 3 female veterans suffers from post-traumatic stress disorder.
Over 50% of female vets face roadblocks to receiving healthcare (only 14% of VA facilities offer specialized women's health care)
Over 60% of female veterans who seek mental health services are under 30 years old.
According to the Department of Housing and Urban Development's most recent annual "point in time" count (one day in January to count the number of homeless persons in large cities across the U.S.) there are an estimated 100,000 homeless veterans across America – and an estimated 1 in 10 are females. For female veterans, homelessness is a frightening and complex predicament – they are most likely to be divorced and raising young children alone. These conditions exacerbate problems of substance abuse or mental illness, and makes women veterans vulnerable to sexual predators.
For women veterans, job opportunities, safe and affordable housing, childcare, mental and physical health care are essential to their future success. The agencies and organizations we fund provide these vital services, but so many more are needed.
Much of the work of Chrysalis is to educate our community about the needs of women and opportunities to help. We have a responsibility to protect the women who have protected us, and give them the same respect as when they were on active duty. Hear their remarkable stories:
And Tuesday (and every day), thank veterans who have given so much of their lives for our freedom.