Chrysalis Receives Support From Hy-Vee
Filed under "empowerment"
Published Wednesday, July 3, 2019
---
---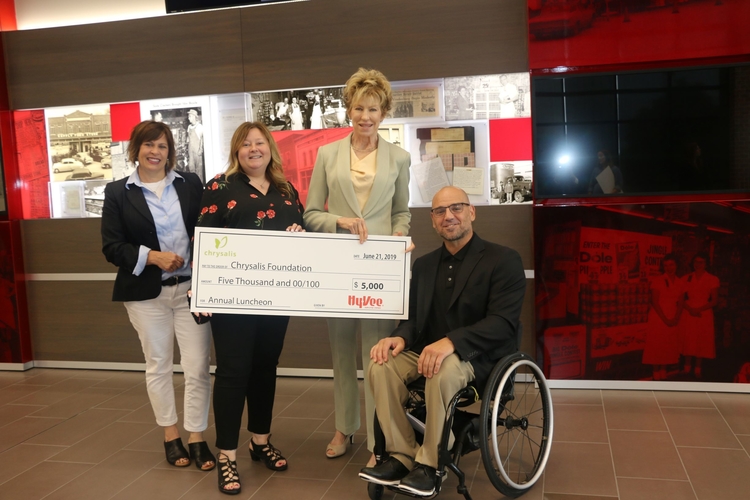 ---
FOR IMMEDIATE RELEASE
Chrysalis Foundation Awarded $5,000 by Hy-Vee, Inc.
donation will provide support and services for women and girls in Central Iowa
DES MOINES IOWA (July 1, 2019) The Chrysalis Foundation was awarded a $5,000 donation from Hy-Vee, Inc. to provide education, safety, and economic empowerment for women and girls in Polk, Warren, and Dallas Counties in central Iowa.
The donation will support the Foundation's Community Grants and Chrysalis After-School programs that reach over 12,000 girls and women each year. 2019 marks the 30th year Chrysalis has delivered grants, education, and services to ensure girls and women are successful in their lives and careers.
"Hy-Vee has been a strong community partner to Chrysalis in the important work of improving lives in our community," noted Terry Hernandez, Executive Director of Chrysalis. "The company has demonstrated leadership in ensuring our mission, and that of many other nonprofit organizations, is successfully achieved."
"The entire team at Hy-Vee is focused on being helpful to everyone we touch, and we share this commitment to supporting girls and women with Chrysalis," said Brad Waller, assistant vice president of community relations for Hy-Vee. "We are proud to be a partner of Chrysalis as the foundation improves lives in central Iowa. We know that by working together, we can make a stronger community and a brighter future for each of us."
About the Chrysalis Foundation
Since 1989, the Chrysalis Foundation has strengthened the Greater Des Moines community by ensuring that girls are confident, strong, and resilient; women have all the rights and opportunities men do; and every citizen values and supports girls' and women's success. To learn more: www.chrysalisfdn.org.
About Hy-Vee, Inc.
Hy-Vee, Inc. is an employee-owned corporation operating more than 245 retail stores across eight Midwestern states with sales of $10 billion annually. The supermarket chain is synonymous with quality, variety, convenience, healthy lifestyles, culinary expertise and superior customer service. Hy-Vee ranks in the Top 10 Most Trusted Brands and has been named one of America's Top 5 favorite grocery stores. The company's 85,000 employees provide "A Helpful Smile in Every Aisle" to customers every day. For additional information, visit www.hy-vee.com.