The Girl Declaration
Filed under "education"
Published Tuesday, April 20, 2021
---
---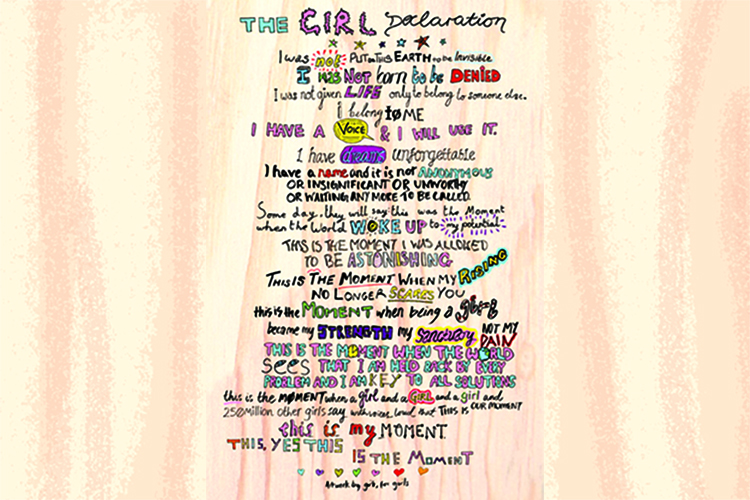 ---
In 2015, the Nike Foundation asked over 500 girls who were living in poverty what they needed for a chance to reach their greatest potential.
With the help of dozens of global organizations working with girls, The Girl Declaration was developed "for girls and for the world."
They also asked the girls how they could help end poverty, and with wisdom beyond their ages, they provided the following guiding principles:
Plan with me, design for me – involve girls' voices in creating, implementing, and evaluating projects and program.
Make me visible, make me count – ensure data collection to analyze and improve programs working with girls.
Give me a fair share of the money you spend to fix things because girls will give more back – dedicate funds for adolescent girls to ensure girls' needs are addressed.
Think of me now, because now is when I need you most, and now is when it will make the most differences – by focusing on adolescent girls, you ensure that the most difficult time in their lives (puberty – physical, social, emotional changes) is a safe transition into adulthood.
Don't forget me because I am too poor, too distant, too silenced for you to know that I am here – working with those most challenged at the start will guarantee they aren't left out at the end.
Don't hold me back – address stereotypes before they become insurmountable, and involve men and boys as well.
Laws should be fair; make and enforce laws that respect and protect me – protecting the rights of girls and give them access to justice.
In short, they concluded that the best solution to ending poverty is to stop poverty before it starts.
The Girl Declaration includes wise and powerful recommendations for girls and young women cross the globe. We can be proud that for Chrysalis, the same goals of education, well-being, safety, and economic empowerment guide mirror those developed for all adolescent girls, and are the best way to ensure girls and healthy, strong, and successful.